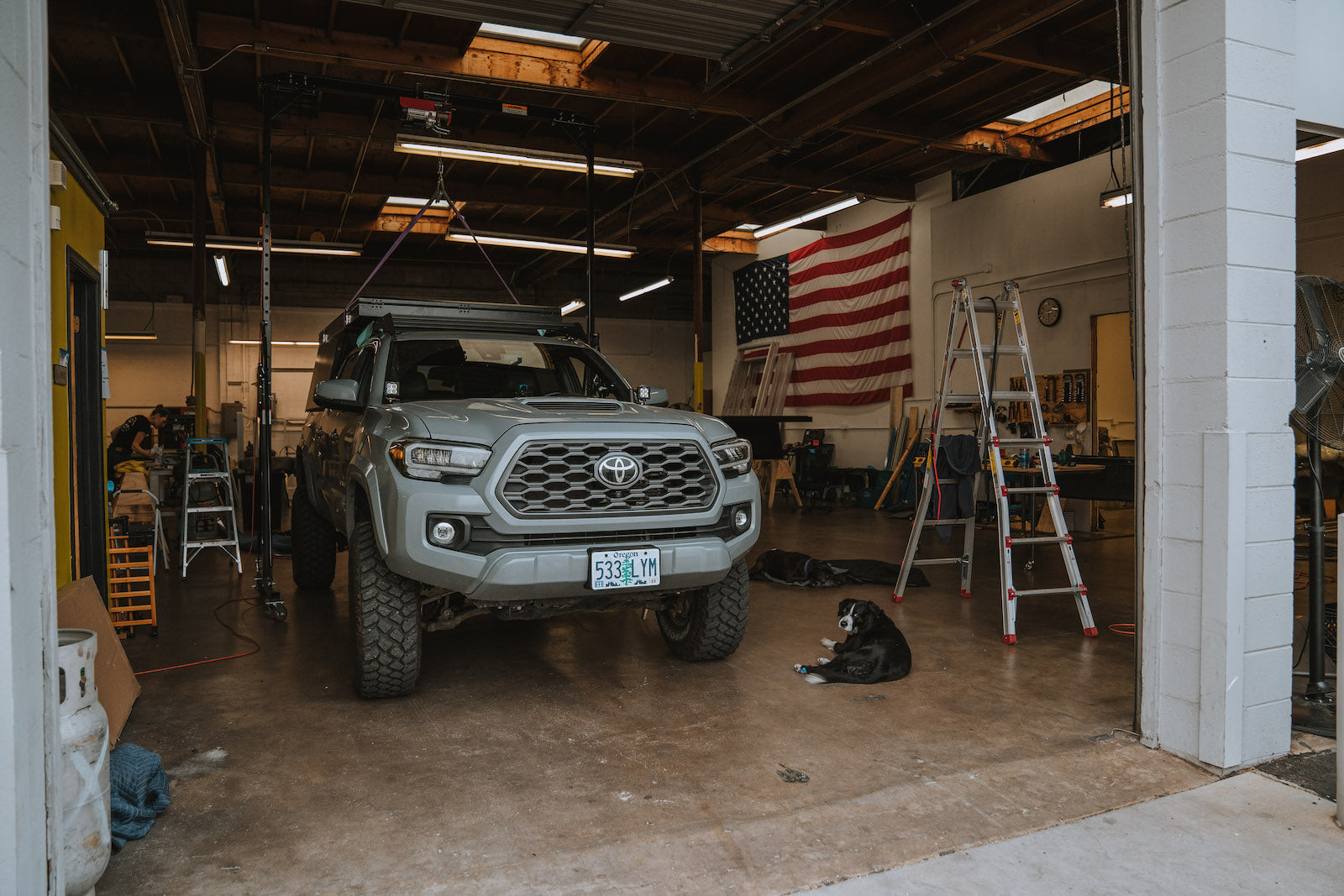 TOPO TOPPERS, LLC GUARANTEE AND WARRANTY STATEMENT
Limitation of Warranty
Topo Toppers, LLC ("Topo Toppers", "Company") shall guarantee and warrant all Topo Toppers branded products under the original purchaser, during the time frame as listed in this Guarantee, and for all products manufactured by Topo Toppers only. The term "product" is limited to items manufactured by Topo Toppers to include factory mandated upgrades, accessories and replacement parts. The product purchased shall be free of defects in materials and workmanship from the date of receipt. Unless expressly stated all items manufactured by Topo Toppers will be covered by a period of two (2) years ("warranty period") from the original date of receipt or installation.
Product Covered by the Warranty
This limited warranty covers all products manufactured by Topo Toppers whether sold directly by company or any other authorized retailer. "Product" shall mean any items manufactured by Topo Toppers, LLC including all campers, lightning packages as well as the fabric/tent portion of the campers to include factory mandated upgrades, accessories and replacement parts.

Topo Toppers warrants that all products purchased through Topo Toppers or a recognized official Topo Toppers reseller shall be free of defects in material and workmanship under normal use of the product during the warranty period. The warranty period begins on the date of the purchase or Company installation of the product, whichever comes later. The warranty does not extend to anyone who subsequently purchases the product after the warranty period. The warranty excludes all expendable parts.
Unless otherwise stated, all products are new and/or serviceable used parts which are serviced by Topo Toppers and perform like new parts. In some instances, parts may not be new and may have been previously installed. 
Terms of Warranty
Subject to the limitations and exclusions described in this Warranty, Topo Toppers will remedy defects in materials or workmanship by making the necessary repairs within sixty (60) days without charge for parts or labor. In addition, if it is not possible to remedy the defects, Topo Toppers will replace the product, the purchaser may elect to receive a refund equal to the purchase price paid for the product, or, a credit to be used toward the purchase of a new Topo Toppers product in the same category.
This warranty coverage does not, under any circumstances, any product that has been damaged or rendered defective as a result of accident, misuse or abuse, as a result of an act of God, by operation outside the usage parameters stated herein, by the use of parts not manufactured or sold by Topo Toppers, by modification of the product, or as a result of service by anyone other than Topo Toppers or an authorized reseller or authorized agent. This warranty does not cover any damage to non-Topo Toppers products used in conjunction with Topo Toppers products.
All repairs and/or replacements must take place at the Topo Toppers facility or other repair facility as authorized by company. All repairs shall be evaluated and approved on a case-by-case basis.
EXCEPT AS EXPRESSLY SET FORTH IN THIS WARRANTY, TOPO TOPPERS, LLC MAKES NO OTHER WARRANTIES EXPRESSED OR IMPLIED, INCLUDING ANY IMPLIED WARRANTIES OR MERCHANTABILITY AND FITNESS FOR A PARTICULAR PURPOSE. TOPO TOPPERS, LLC EXPRESSLY DISCLAIMS ALL WARRANTIES NOT STATED IN THIS LIMITED WARRANTY. ANY IMPLIED WARRANTIES THAT MAY BE IMPOSED BY LAW ARE LIMITED TO THE TERMS OF THIS EXPRESS LIMITED WARRANTY.
Exceptions to Warranty Coverage
No warranty is given for any defects or damage due to normal wear and tear, scratches, accident, abuse, misuse, neglect, or negligence, the unauthorized modification or repair of the product, the use, maintenance or storage other than in accordance with Topo Toppers use, maintenance and storage instructions, environmental conditions, including, but not limited to road salt, hail, windstorm, freezing, flooding, fire, or to any occurrence that might be termed an Act of God or force of Nature, or normal deterioration, fading or discoloration of powder coat or fabric (including vinyl) and decorative items due to wear or exposure. 
Third party accessories and materials including but not limited to fans, solar panels, windows, struts, lock cylinders, locking pins and other similar items are otherwise excluded from this limited warranty. Should purchaser discover a defect of such accessories and materials, it is the sole responsibility of the purchaser to contact the manufacturer directly to have the item replaced under the warranty of the respective companies.
No warranty is given for defects resulting from conditions beyond Topo Toppers's control including, but not limited to, misuse, overloading, or failure to assemble, mount or use the product in accordance with Topo Toppers's written instructions or guidelines included with the product or made available to the purchaser.
Instructions for Obtaining Warranty Coverage
In the event that a product is defective, the purchaser should contact Topo Toppers directly by emailing info@topotoppers.com within thirty (30) days of discovering the defect. 
In the event that the product needs to be returned, a representative from Topo Toppers will provide the purchaser with instructions for the return via email. The purchaser shall be responsible for all costs associated with mailing the product to Topo Toppers, with proof of purchase in the form of an original purchase invoice or receipt, and with a detailed description of the defect to be sent via email. The mailing costs will be refunded by Topo Toppers, upon presentation of the related mailing receipts.
Topo Toppers is not responsible for damages that may occur during shipping. Purchasers may open their own claim with the registered shipping company or refuse the delivery of possibly damaged items.
Topo Toppers retains the right to add or remove exceptions to the Limited Warranty. This includes but is not limited to recalls, whether in the form of a safety or performance, factory mandated upgrades, or promotional products and accessories.
Termination of Warranty
This warranty shall terminate if the product's owner and/or purchaser fails to present this Warranty Statement when requesting repairing services from Topo Toppers, under the terms provided herein.
Limitations of Remedy
Topo Toppers's sole liability to any purchaser is limited to the remedy set forth above. In no event will Topo Toppers be liable for any lost profits, lost sales, or for any consequential, direct, indirect, incidental, special, exemplary, or punitive damages or for any other damages which were not directly and clearly caused by a defecting product.
Topo Toppers is not liable for any claim made by a third party or made by you for a third party. This limitation applies whether damages are sought, or a claim made under this warranty or as a tort claim (including negligence and strict product liability), a contract claim, or any other claim. This limitation cannot be waived or amended by any person. This limitation of liability will be effective even if Topo Toppers or an authorized representative has been advised by you of the possibility of any such damages. This limitation of liability, however, will not apply to claims for personal injury.
Disclaimer of Liability
Repair or replacement of a defective product or the issuance of a refund or credit (as determined by Topo Toppers) is a purchaser's exclusive remedy under this warranty. Damage to a purchaser's property or other person is excluded. This warranty is expressly made in lieu of any and all other warranties, express or implied, including the warranties of merchantability and fitness for a particular purpose, but excepting the warranties which are expressly provided by law.
EXCEPT FOR THE LIMITED WARRANTY DESCRIBED ABOVE, THERE ARE NO OTHER WARRANTIES MADE BY TOPO TOPPERS ON ANY COVERED PRODUCT. NO ORAL OR WRITTEN INFORMATION OR ADVICE GIVEN BY TOPO TOPPERS, ITS DEALERS, AGENTS, OR EMPLOYEES SHALL CREATE A WARRANTY OR IN ANY WAY INCREASE THE SCOPE OF THIS WARRANTY, AND YOU MAY NOT RELY ON ANY SUCH INFORMATION OR ADVICE. NEITHER TOPO TOPPERS NOR ANYONE ELSE WHO HAS BEEN INVOLVED IN THE CREATION, PRODUCTION, OR DELIVERY OF THE PRODUCT SHALL BE LIABLE FOR ANY DIRECT, CONSEQUENTIAL, OR INCIDENTAL DAMAGES (INCLUDING DAMAGES FOR LOSS OF BUSINESS PROFITS, BUSINESS INTERRUPTION, LOSS OF BUSINESS INFORMATION, ETC.) ARISING OUT OF THE USE OF OR INABILITY TO USE THE PRODUCT, EVEN IF TOPO TOPPERS HAS BEEN ADVISED OF THE POSSIBILITY OF SUCH DAMAGES. SOME STATES AND COUNTRIES DO NOT ALLOW THE EXCLUSION OR LIMITATION OF INCIDENTAL OR CONSEQUENTIAL DAMAGES, SO THE ABOVE LIMITATION OR EXCLUSION MAY NOT APPLY TO YOU.
In the event that any of the above limitations are held unenforceable, Topo Toppers total aggregate liability for any damages to you or any third party shall not exceed the purchase price you paid, regardless of the form of any claim. This limited warranty is governed by the laws of the United States of America. This limited warranty is valid for and only applies to products purchased and used inside the United States (and its territories or possessions).
This warranty gives you no specific legal rights. You may also have no other rights which vary based on country or state.